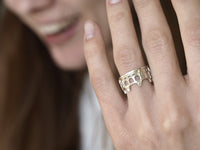 We don't remember days, we remember moments...
We all were born somewhere, raised, studied. We travel, move from place to place, exploring opportunities life gives us. One day we feel our heart full of tenderness to one very special person and we fall in love, get married, grow our family. We meet friends, visit parents on Christmas and Thanksgiving. We enjoy our life, collecting significant moments inside our hearts.
Cityscape Rings help us to keep our warm memories about significant moments that happened in our favorite places.
Find your favorite city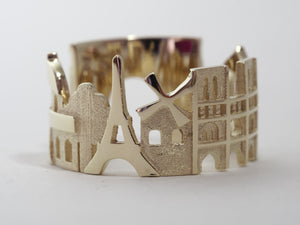 High Quality
Cityscape rings are made with an innovative technology using advanced quality 3D printing.
10 employees are involved in manufacturing each ring. Author is only one - Ola Shekhtman.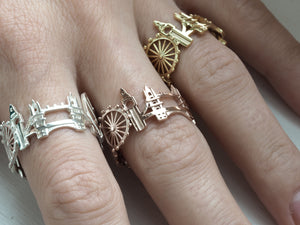 Materials and Sizes
You can choose metal you like: Sterling Silver, 14k Gold and Platinum. More about materials.
Please double check your size. Wide rings sit tighter than our regular narrow rings. Guidance.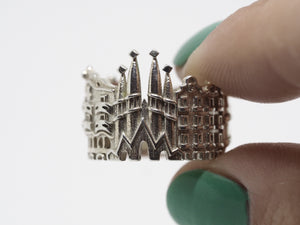 Customer Service
Production takes 9 business days. Once your order is shipped you receive email confirmation with tracking number.
Please read Return and exchange policies.
This is my third cityscape ring, and it's just as impressive as the other two that I own (Rome and London). I get compliments on these rings all the time, and people are always impressed with the quality. I would recommend one of these rings as a gift to anyone who loves to travel (or just enjoys unique and beautiful jewelry). Fantastic - can't get enough!

allisonkristofco on Jun 2, 2020
I've wanted this ring (Pittsburgh) for years, and I can't believe I waited so long for something so perfect. The detail is incredible, and everything came beautifully packaged- definitely gift ready if desired! What a delight- thank you for my beauty! I'll treasure it for many years to come!
Photos don't do it justice! It's gorg!            

Janna on May 29, 2020
This my second purchase, and I could not be more pleased. These rings are wearable art, a great reminder of a favorite city, or perhaps a city one longs to visit. I do recommend being sized before purchase. I bought a full size larger because of the greater height of the ring, and it fits perfectly. Arrived in record time, too. Thanks!                           

cezlane on Sep 26, 2019